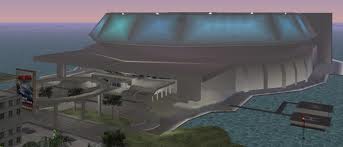 Hyman Memorial Stadium
is a sports arena that appears in
Grand Theft Auto: Vice City
, and
Grand Theft Auto: Vice City Stories
.
History
Stated to be completed in 1979, the stadium name is possibly a reference to the hymen (implying the lose of virginity) or more likely to Hyman Roth, a Miami-based character in The Godfather Part II. The stadium is surrounded by a thin stretch of parking spaces and driveway. The stadium also boasts a pair of landing pads that a Maverick in Grand Theft Auto: Vice City Stories spawned at. In GTA Vice City, the landing pads are empty.
Events
In GTA Vice City, three events are held each game day at the stadium. A large billboard above the entrance to the events shows which type event is being held that night. The events rotate each day (Hotring → Bloodring → Dirtring), and are only available to the player during the times 8:00pm (20:00) to 12:00 midnight (00:00). Compleating the events is also required for 100% Completion in GTA Vice City.
Gallery
Trivia
Hyman Memorial Stadium didn't exist during the making of Grand Theft Auto: Vice City. It was later added shortly before the game's release, as well as the events.