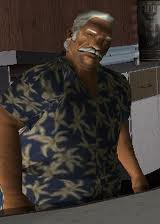 Alberto Robina (1911- ) is a character appearing in Grand Theft Auto: Vice City and Grand Theft Auto: Vice City Stories. He is the father of Umberto Robina and the owner of Café Robina.
Early Life
He happens to be part of the Cubans gang, that are lead by his son.
Alberto only makes one major appearance in the GTA Vice City Stories mission Papi Don't Screech. He was captured by the Cholos and was being held captive at Hyman Memorial Stadium. Umberto sends Victor Vance out to rescue him from the gang, and bring him back to the café without being spotted by the Cholos. He suceedes in doing so.
He makes minor appearances in three missions in GTA Vice City when Umberto is talking to Tommy Vercetti at the café about his plans to eliminate the Haitian gang.
VCBI Record
The Vice City Bureau of Investigation has a file on Robina:
Father of Umberto Robina, quiet café owner.
Mission Appearances
GTA Vice City
GTA Vice City Stories
Trivia
Alberto only appears behind the bar of the Café Robina during missions. When in free roam, a regular shop worker is in his place